This Saturday - Feb 2 at Steamers Jazz Club in Fullerton.
THE FRANK CANO LATIN JAZZ BAND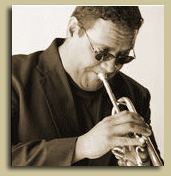 Frank Cano - Trumpet, Benn Clatworthy - Tenor Sax Flute Joey Sellers - Trombone, Larry Vazquez - Bass, Jeff Goodkind - Piano, Giancarlo Anderson - Timbales, Sal Vazquez- Congas.
Trumpeter, composer, and arranger Frank Cano a native of Ciudad Juarez, Mexico received his music studies at California State University Long Beach and has gone on to perform with many diverse artist in The United Stated, Canada, Mexico and Asia.

Frank performed for 3 years with legendary conguero Francisco Aguabella with Roberto Torres, Ralfi Pagan, Tony Orlando, Jose Feliciano, Marisela.

For three years Frank was the musical director for the Nosotros/Golden Eagle Awards Show. Frank's debut CD "A Beautiful Day/Un Lindo Dia" has been very well received in the U.S., Latin America and Europe.